In a couple of weeks, "The Cedric Muhammad and Black Coffee Program" will return with a Special Broadcast dedicated to a focus on African Capital Markets and Economic Developments – a groundbreaking Internet Broadcast. The Show continues its 4-Element Brand: Economics, Geopolitics, Music and Motivation.
Ahead of the Wednesday, June 15, 2011 Special Broadcast of 'The Cedric Muhammad and Black Coffee Program," Independent Film Consultant and long time Friend and Creative Partner Eric Canada spoke with Cedric about the evolution of the program and a host of other issues.
Here is Part I of their conversation:
Eric Canada: What I want to do with this is have the kind of free flowing conversation you and I have had for years. The only difference is this is for the people and the public.
Cedric Muhammad: Alright, cool, I'll turn off my 'self-editing machine'…
Eric Canada: That's important 'cause I think when someone like you has the public persona and background people lock into only one side of you and you know how much I dislike that kind of limit because while people may know you as someone who has been proudly associated with Wu-Tang, Nation of Islam, Members of Congress, Star & Buc Wild, the African Union, AllHipHop and more at the end of the day I just see you as an interesting dude and a brother and friend to a lot of people who has fun but who is serious about business. How does that relate to your show?
Cedric Muhammad: That is a big part of what we try to do on the program – allow people to form stereotypes and limited impressions of me and the audience and then break free from it. It creates a nice tension. There is a confluence of forces at work – my genuine personality, my beliefs, my imperfections, my professional interests and my personal compass that I've always let the audience know is my reference point. When it's all over with I have to be able to listen to the show archives and know that I lived up to what my Mother and Father always wanted me to be – 'well-rounded.' That's the actual phrase my Mom always used to describe how she wanted me to be. I grew up that way and became an 'extremist' later in life! But seriously I am largely driven by a need I feel to produce a positive return on all of the 'investments' that have been made in me by the influences on my life. I suffer and sacrifice a lot as a servant and lover of people but I don't negate the existence of my 'self.'
Eric Canada: Something I know you have spoken on during the show are your influences and how much you enjoy talk shows. Speak about that.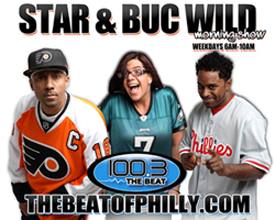 Cedric Muhammad: Yeah the 4 talk show hosts I credit for influencing me: Bryant Gumbel– the closet Black militant; Walt 'Baby' Love who I grew up listening to on Armed Forces Radio; Matsimela Mapfumo (Mark Thompson) who was the first talk show host who allowed me to co-host in studio, and Star of Star and Buc Wild who I believe is hands-down the best and most talented person to ever do a talk program. I've learned and been inspired by all of them. But I study the game – everyone from Don Imus, to Howard Stern, Oprah Winfrey, Alex Jones, Colin Cowherd and Chris 'Mad Dog" Russo. And of course I respect what someone like Michael Baisden does in running probably the most seamless radio program you will ever hear. And great interviewers like Brian Lamb of C-SPAN have my respect. He understands the science of subordination and being 'boring' and just shutting up so your guest shines!
But I don't just get into 'show personalities' that's why I deal with business so much on my show.
Ever since I was 17 years old and my Big Brother took me behind-the-scenes of a rap concert I've always been more into the off-camera aspect of entertainment than the people who make the headlines. So I know that someone like Rush Limbaugh is first-and-foremost in his mind a successful entrepreneur and not a political leader. The fact that his Republican supporters and Democratic enemies don't know this is why he is so successful but he has a very real business model that I can appreciate. Here is what a New York Times article from 2008 reported him explaining, "Do you know what bought me all this?" he asked, waving his hand in the general direction of his prosperity. "Not my political ideas. Conservatism didn't buy this house. First and foremost I'm a businessman. My first goal is to attract the largest possible audience so I can charge confiscatory ad rates. I happen to have great entertainment skills, but that enables me to sell airtime."
That's the business model – has nothing to do with ideology. You have to respect the science of that from a man making $38 million a year to give his opinions, while most of us don't get a dime.
There are certain people who I know could transition into talk radio and be great at it. Cynthia McKinney is one person and I've told her that. She has qualities that go beyond ideology.
It's the same with Glenn Beck. I used to listen to him in 2004 on long drives to Atlanta when I was advising Congresswoman Cynthia McKinney. I knew he would be big because of how his show was structured and because he has mastered voice inflection, cadence and the use of language to a degree. I knew it would work on radio but not TV. When Glenn Beck does that same stuff with a camera on he looks kind of creepy. It doesn't work as well.
I can recognize that same quality – cadence – in someone like the rapper Jadakiss who has mastered that and also in how he end rhymes with whole phrases, even short sentences. I have a friend of mine who is a successful R&B producer and singer and he and I talk about that all visual effects of viagra of the time, little things I notice like how Mariah Carey stands out from other singers because she uses multi-syllable words. Her vocabulary is broader than her contemporaries. It gives her a signature sound.
Well, talent is talent and science is science and one of the things I do on my show is appreciate it wherever I see it. I don't think you are free as a person – intellectually or spiritually – if you hide behind your ideology and a public mask you wear in order to gain acceptance from a certain group of people.
An ideologue can't accept that I praised Glenn Beck and Jadakiss in the same sentence for applying science and having talent.
They would rather I argue over their political beliefs and lyrical content only.
A person like that lives in a prison.
Eric Canada: What do you mean by 'prison'?
Cedric Muhammad: They are in the 'social mirror' jail; incarcerated by groupthink, oppressed by how they are labeled and categorized by others. They aren't willing to accept reality for what it is, or take risks, and rarely acknowledge their own imperfections in public. I'll give you an example from talk radio. Howard Stern.
Anyone who has really listened to Howard Stern will bear witness.
With God as my witness I never listen to Howard Stern for his freaky content. I mainly listen to him for a couple of reasons. One, he is one of the best interviewers, ever and two, he is one of the most introspectively honest human beings I have ever heard. Well, there is a third reason too – I love how Robin Quivers does the news.
Now, many people would think I'm not supposed to appreciate anything about Howard Stern. But these people are deluding themselves. How could he attract such a loyal listenership willing to pay to listen to him if there was not something magnetic about his personality that resonated with them? To me, aside from his talent he represents the subconscious mind of the worst part of the human personality which people don't feel comfortable ever acknowledging in public or even in private. But if you ever wanted to know why some people naturally do evil or why good people do bad things, just listen to his show.
He camps out on a certain spectrum of the human personality that many don't want to see in themselves and because he does that so openly, he actually demonstrates more knowledge of self than his critics. He's more honest with himself than they are with themselves. This is one of the areas where religion often has intellectual cowardice in not wanting to face the origin of evil and what scripture has to offer in understanding the entire range of human nature.
But if you read the hard copy version of Howard Stern's recent Rolling Stone interview you'll get a picture of a person who has an almost insatiable desire to understand themselves and why he does the things he does – good and bad.
A lot of intellectuals, activists, teachers, scholars and others who hide behind ideas, ideologies, philosophies, sectarian loyalty and who specialize in critiquing others – but hardly ever themselves – can learn from that.
Eric Canada: What about Oprah?
Cedric Muhammad: Pretty much the same thing. I never really got into her show but I did watch her final episode and appreciated her presentation of her worldview. She's very deep.
Now I do have a criticism of Oprah that I think is an important subject but I'll only raise it quickly and move on to the point you are driving at.
How could Oprah live in the same city as Minister Louis Farrakhan for as long as she has and have everyone you could imagine on her show as a guest but never him?
Can you say 'Arsenio Hall?'
There is something in that for people to study about how really powerful and free Black businesspersons are (or aren't). But I would never allow that peculiarity or critique to obscure my appreciation for her beautiful heart and incomparable influence or the science of what she does.
I was reading an article in The Financial Times this morning about how the book and music industries are impacted by her taste-making powers. She is an icon whom I and everyone else can learn from.
I'll save this for my show but Oprah wrestles with the problem that any leader or celebrity who serves people in public wrestles with – how to be selfless while pursuing a business self interest.
The 'mask' she has to wear in order to sell and market drains her genuine reach and spiritual touch.
Eric Canada: Why does it matter so much for you to make economics and business the heart of the show?
Cedric Muhammad: Because it's natural for me. I believe my interest in those subjects is stimulated by God. And I've had a life experience where I was always made sensitive to it. I grew up observing a Dad who I saw bargaining in the streets of New York as well as Rome, Italy. I used to not be able to watch because I would feel sorry for the vendors, not knowing their posturing was all part of the bargain. And I also grew up for many years outside of the United States so my mind was shaped by being an 8-year old who kept track of currency exchange rates – the dollar, German mark, Italian lira, French franc. Therefore I was never intimidated by the subject and there was no school capable of forcing me to 'unlearn' what I had already seen in my travels as a boy. The other insight I gained later in life was that entrepreneurship – which is the base of business – is a deeply spiritual and emotional act. So that allows me to speak about it in a manner that anyone can relate to. At the end of the day business is just life activity in universal order.
Part II: The Influence Of The Internet, Shifts In Content Delivery And The Importance of Africa
http://www.cedricmuhammad.com/part-ii-big-business-and-african-investment-the-return-of-%E2%80%98the-cedric-muhammad-and-black-coffee-program%E2%80%99/